---
---
These Beautiful Custom Made Leather Jacket. Made from Genuine Leather with a vintage tint. A sleek design to keep you warm this Winter! 
With Five pockets to keep you worriless for the gadgets you carry daily!
Note: Since these are made on Order, it takes around 3 to 6 working days for delivery.
SIZE GUIDE:
How to Measure
Tip: If you don't have a measuring tape, you can use a ruler and a piece of string.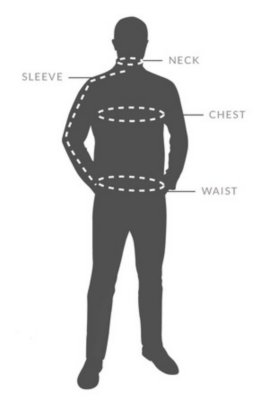 NECK
Start with a collared shirt that fits you well. Lay the fully buttoned collar flat. Measure with tape inside of the collar going around to the far end of opposite buttonhole until tape overlaps.
CHEST
Measure just under arms and across shoulder blades holding tape firm and parallel to the floor.
SLEEVE LENGTH
With arm relaxed at your side and slightly bent, measure from center back neck, over the shoulder, down the outside of the arm to the wrist. Sleeve length is always in whole numbers so round up if necessary.
WAIST
With feet together, measure around the fullest point of seat while standing. It can be helpful to use a mirror in front of you to guarantee the tape being level across the backside.
---